Looking for breakfast in the Brisbane CBD can be quite the challenge. Mediocre coffee options they have by the bucket load, but great spots for breakfast (and good coffee)? That's another story. Until recently, the CBD has been a largely neglected realm of the Brisbane breakfast scene, so we know you folks schelping it into the big smoke will appreciate a list of the best breakfast cafes in Brisbane's CBD.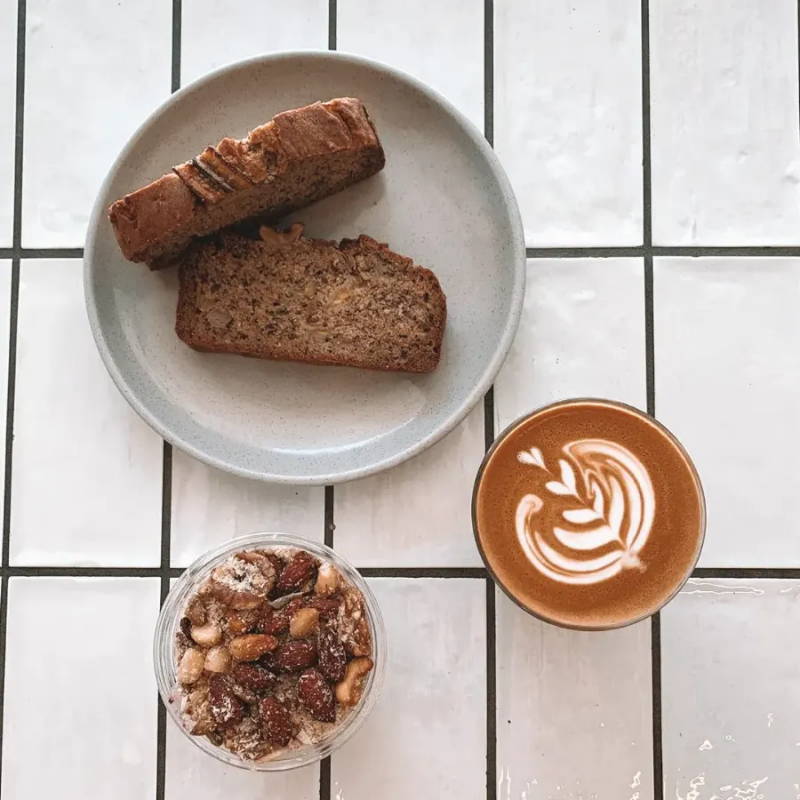 Greenglass
George Street
A cross between the elegant wine bars of old and an NYC loft apartment, Greenglass is a literal hidden gem serving up a small but oh-so elegant French menu, paired with some of the best dmn coffee in town. Their menu changes regularly, but one main stayer is the dippy eggs. You MUST order the dippy eggs!
Cawfee
Queen Street
Serving up an impeccable cup of joe using an organic blend from The Byron Bay Coffee Company, Cawfee is the perfect breakfast in Brisbane's CBD. With scrumptious foodstuffs ranging from classic avo smash, to eggs benny, to a hefty breakfast burger, this is one joint that'll revive your faith in the CBD.
Coffee Iconic
George Street
Notable for their grungy laneway seating, Coffee Iconic more than lives up to their name with a rotation of the latest and greatest blends in specialty coffee. Their all day breakfast features raspberry and vanilla Belgian waffles as well as some comforting classics like granola or avo toast for those days when you're in a mad rush.
Death Star Canteen
Queen Street
Needless to say, any Brisbane cafe that reps as an ode to one of the most iconic comedy sketches of ALL time, gets our vote. Death Star Canteen is littered with Star Wars decor (yes, the Darth Vader cookies are delicious. Eat 10), but importantly, they do a mean-ass coffee and some great classic brekfast dishes (scrambled eggs, avo on toast, big brekky—you catch our drift). And, yes, there is penne arrabbiatta on the menu.
Nodo
Elizabeth Street
Famous for the 'baked not fried' donuts that turned the clean-eating movement on its head by letting us have our cake and a six pack too, Nodo is a hub of ultra-healthy, ultra-tasty breakfasts. For something hefty and left of field, check out their kimchi waffle benedict with black sesame hollandaise, or the brisket cheeseburger with kombucha mustard. If you're after something a bit quicker, grab one of Nodo's super natural shakes, packed with nutrient dense superfoods. They also do a stellar caffeinated brew.
Strauss
Elizabeth Street
This specialty coffee café serves one of the city's best breakfast menus from Monday to Friday. Sure it's simple, but simple, honest chow is what you need before your daily grind gets going. Think avocado and sourdough toast with dukkah, mixed grain bircher with berries and cacao nibs, and brioche French toast. Strauss also have green smoothies and a good range of teas to get your day started right, or exceptional coffee to get your day started even better.
The Gresham
Queen Street
Love toast? Us too. But finding the perfect slice in the Brisbane City is not easy. You might know The Gresham as a great spot for an after-work drink or three, but this Brisbane CBD bar also do breakfast and a cracking cup of joe. Their breakfast menu celebrates all that is good about toasties, including a Reuben, classic ham and cheese, and a beef brisket toastie with jahlsberg, caramelised onion, roasted peppers and Walter's steak sauce. They also serve delish' croissants, faithful avo smash, and 'the Colonel's blend' of Silipo coffee.
Botero
Creek Street
Take a trip to Botero on Creek Street for exceptional coffee and fantastic breaky options. I have literally never had a bad experience with their coffee and that is an all but impossible strike rate so trust me when I say the coffee is good. As for brekky, try the truffled mushrooms with garlic butter and poached egg on sourdough, or their amazing maple bacon French toast. Even their idea of avo toast is suitably extra with goat's cheese, beetroot, zucchini and cress.
Felix For Goodness
Burnett Lane
Looking for organic, locally sourced breakfast that's lovingly made from scratch in the Brisbane CBD? Look no further than Felix Espresso and Wine Bar. This Burnett Lane café is a hidden gem that offers up the perfect all-day breakfast menu, including housemade crumpets, classic avo smash, and daily specials alongside fresh smoothies and specialty coffee. They even make their own jam.
Frankie & George
George Street
We bloody love Frankie & George, and not just because they pour some of the best brews on the block, but because they are one of the few places in the city centre that serve an absolutely cracking breakfast all day long. Baked eggs, hot smoked trout, and a bacon and egg wrap are just a couple of standouts from their menu, and go down great with a cup of whatever blend is in the grinder. Frankie & George also boasts a cabinet full of fresh baked muffins, cakes, and cookies, making them perfect for snacking on the go.