It is no exaggeration that we are currently living in some very strange times.
With the increasing normality of spending time indoors and away from people, it's got us thinking of some creative ways to spend this newfound time at home!
Heres what we came up with: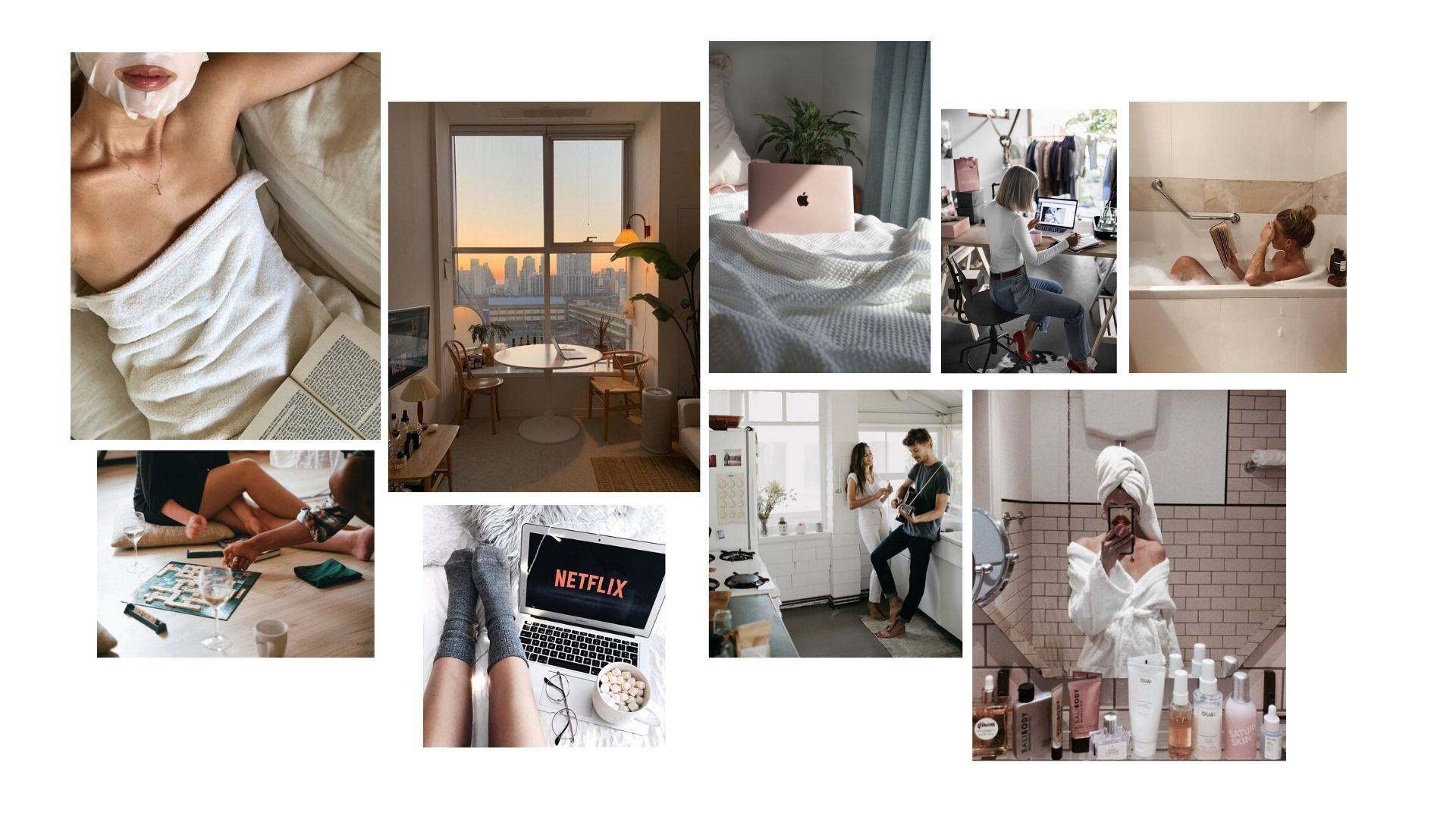 Spa Day
Give yourself the pampering you deserve.Draw a hot bath, use up your most treasured lush goodies, put on a hydrating face mask and zone out to some of your favourite music.
Get creative
Let out your inner artist! Get creative by cut up some old magazines and create a mood board for daily inspiration as to how you can achieve your dreams. You could even re-decorate your bedroom with some beautiful pieces by yours truly – this includes painting, drawing, or making a collage.
Clean out your wardrobe
Finally decluttering your wardrobe after months of wanting to but not having the time. Channeling your inner Marie Kondo and make a keep, maybe and donate pile!After you've curated your perfect wardrobe pre prepare outfits for different occasions so you never have to take an hour deciding what to wear again.
Educate yourself
If you have ever felt inadequate in your knowledge about something, read about it!From social issues, to fashion icons the internet is a library full of information for you to absorb.If you're an ultra-nerd (no shame), you may even enrol into an online course! Or maybe begin ticking off some of thosebooks you told yourself you were going to read but never got the time to.
Exercise
Create your own at-home gym circuit. Try running up and down the stairs- a different Pilates move in each room or even jump on youtube and follow an online workout.
Cook off
If you have roommates, turn your kitchen into the MasterChef warehouse and create the best meal you can only using what you have in your fridge, get your other roommate to judge and keep the competition going throughout the week.
Board game night
Another great way to make time pass –board games!Wage your bets on winners and losers about chore delegation.
Binge,Binge,Binge
Make a list of all the shows you've ever wanted to watch and start making your way down it;take a break from one show by starting another?With streaming websites such as Netflix, Stan, Disney+, Amazon Prime and Hulu, you'll never have a shortage of shows to indulge in.
Master your makeup
Watch all of the vogue beauty secrets videos on YouTube to pick up all the hot celebrity makeup tips! You could even pick something you want to improve such as the art of winged-eyeliner and practice, practice, practice.
Self-Reflect
Connect with your inner thoughts by journaling every night.Sit with your thoughts by giving meditation a go with apps such as Calm, Headspace or Buddhify. Or even draw a mindmap of the different avenues of your life- career, relationships, friendships etc. and what you want to achieve in the next 10 years – don't be afraid to go into detail.
Online shopping!
Take some time to put together a new wardrobe!Source some inspo from Pinterest and create some key looks for the season ahead. Retail therapy is a real thing and nothing feels better than new clothes?!